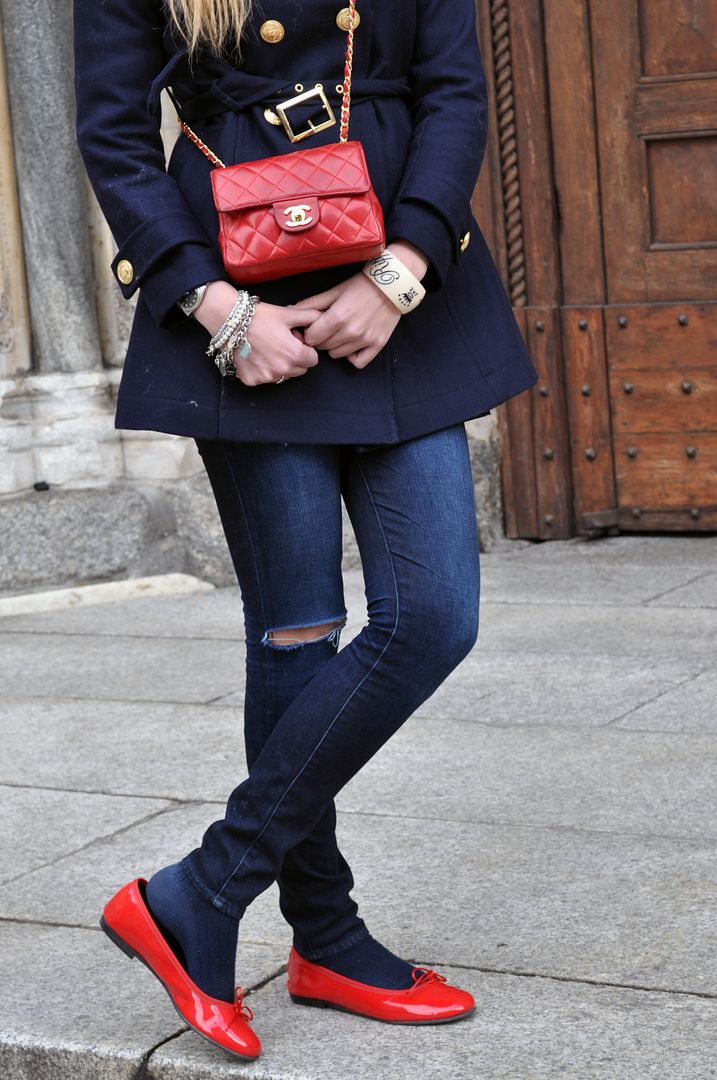 Yes, I admit it, I'm a big fan of the colour red. When I found at home this old velvet hair band (i owned it when I was about 6) I decided It was the right time to wear this colours, yesterday I was all about red and blue. My small and kinda ruined red Chanel bag had to be there, as well as my vernis flats and my lipstick, that I have to learn how to wear in a better way (don't be mad at me, I put it while I was at the restaurant without looking at me at the mirror
). I'm not a big fan of makeup but sometimes I like colouring my lips, and I think that yesterday the lipstick was complusory. Naturally there also were skulls, on the shirt and on the necklace, how could they miss? And some shots are dedicated to my Jessica Kagan Cushman bangle that I've owned for months and that I find too ironic and funny (Ripped off by Chanel
)
What about the rest of my life? I study and I study and I study. Next week I have 2 tough exams and I have to try to give my best, you'll excuse me if I'll post less in the next days or I'll create different posts (I have some ideas in my mind that I hope you'll appreciate). Sorry If i can't answer all the emails I receive!
I want to thank you all for adding me to bloglovin', you made me gain a lot of positions, and now I'm between the first 100 most followed blog in the "general fashion" section, keep it this way

I also have been noticed of this video with my photos that someone made for me on youtube, and the username is lookbookdotnu, is any of you? Anyway, thank you. I should upload my videos on youtube as well, but I have no time in these days!
Si, lo ammetto, sono una grande amante del colore rosso. Mi è bastato ritrovare a casa questa fascetta di velluto di quando avevo circa 6 anni per farmi vestire con questi colori, ieri ero tutta sul blu e sul rosso.La mia piccola e abbastanza rovinata Chanel non poteva mancare, come le mie ballerine di vernice e il rossetto, che devo sicuramente imparare a mettere meglio (abbiate pietà di me, l'ho messo al ristorante senza lo specchio
).
Nonostante io non sia un'amante del trucco ogni tanto mi piace colorarmi le labbra, e penso che ieri il rossetto fosse decisamente necessario. Naturalmente poi i teschi, sulla camicetta e sulla collana, come potevano mancare? E qualche scatto dedicato al mio bracciale di Jessica Kagan Cushman che ho da mesi e trovo troppo ironico e divertente (Ripped off by Chanel, che significa derubata da Chanel
)
Come procede il resto? Studio e studio e studio. Settimana prossima ho due esami entrambi molto tosti e devo cercare di dare il meglio, mi scuserete se nei prossimi giorni posterò meno o creerò articoli diversi (ho qualche idea in mente che spero apprezzerete). Scusate anche se non riesco a rispondere a tutte le mails che ricevo!
Grazie a tutti per avermi aggiunto su bloglovin', mi avete fatto guadagnare molte posizioni, e sono entro i primi 100 blog più seguiti nella categoria "general fashion", continuate cosi

Sono stata anche avvisata di questo video con le mie fotoche qualcuno ha fatto per me su youtube e lo username è lookbookdotnu, è qualcuno di voi? In ogni caso grazie. Dovrei caricare i miei video su youtube in effetti, ma in questi giorni proprio non ho tempo!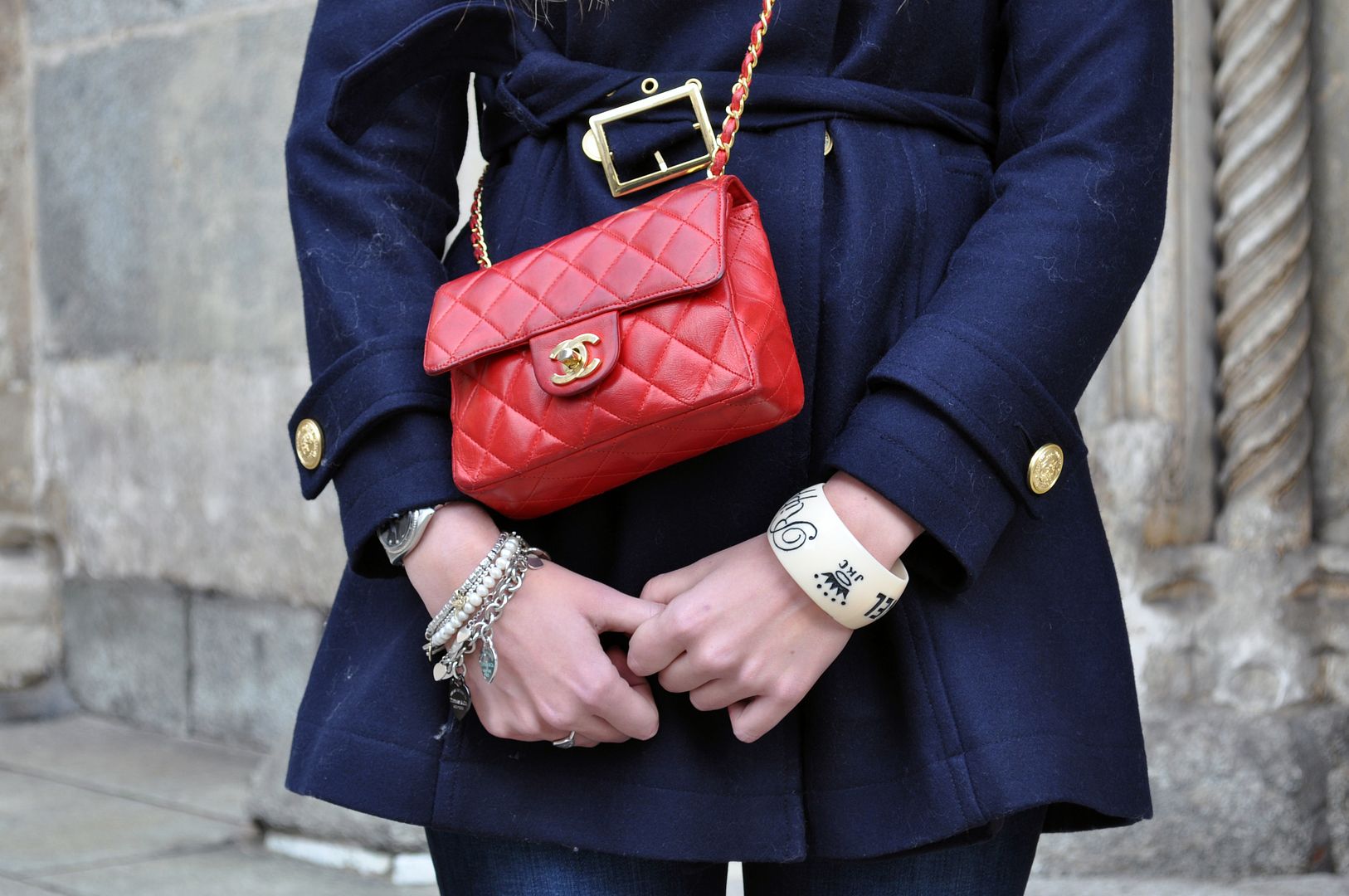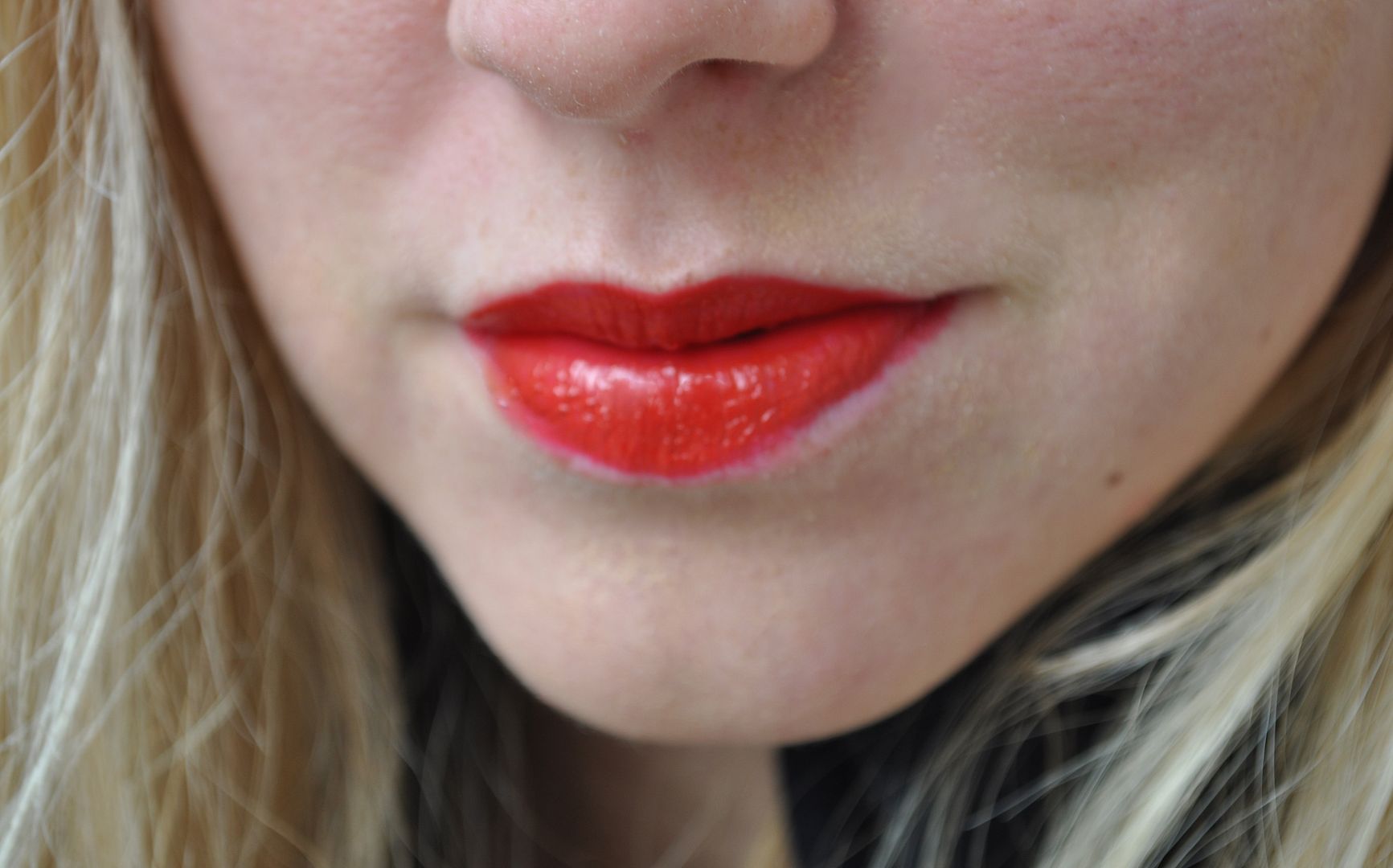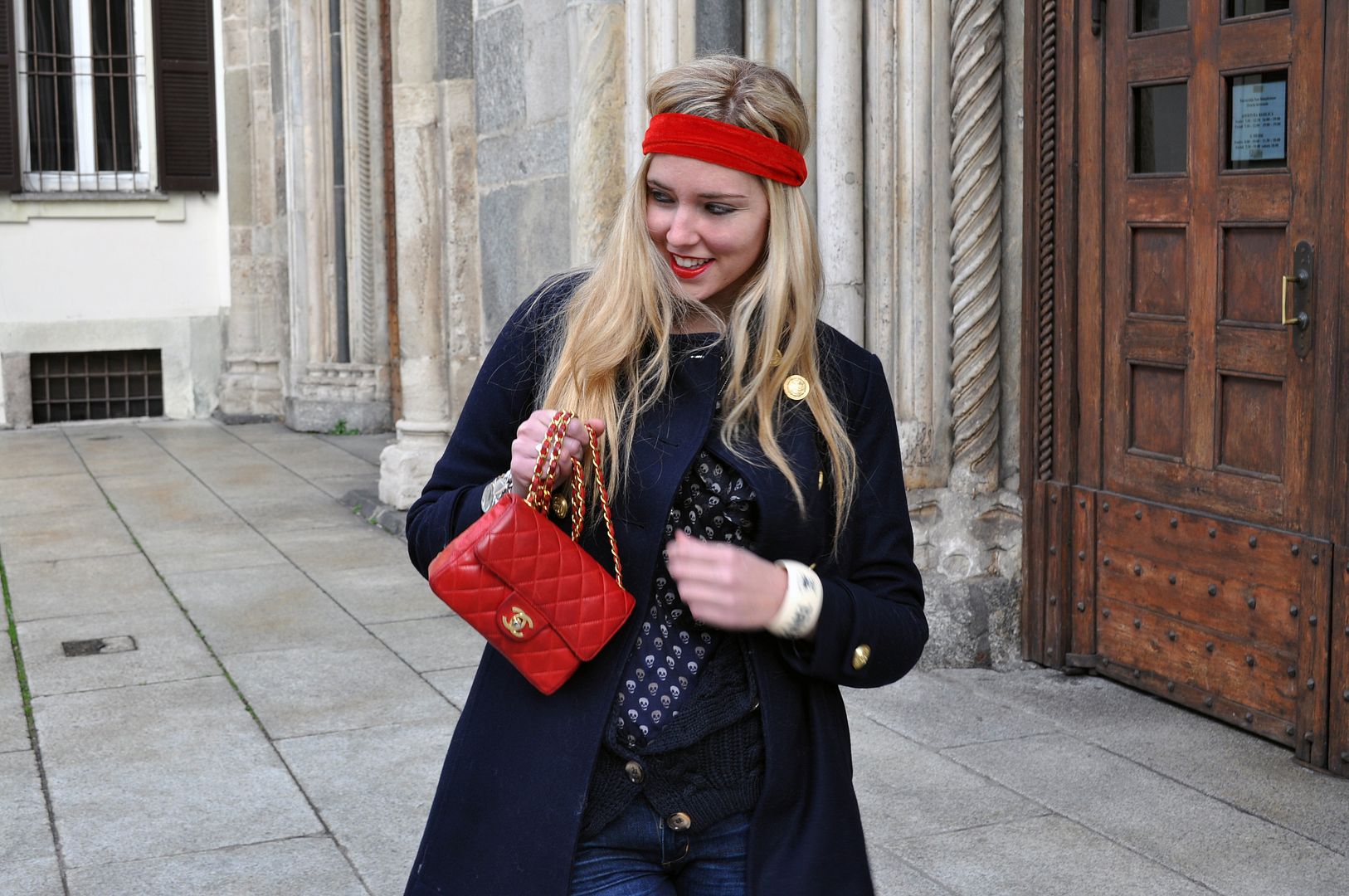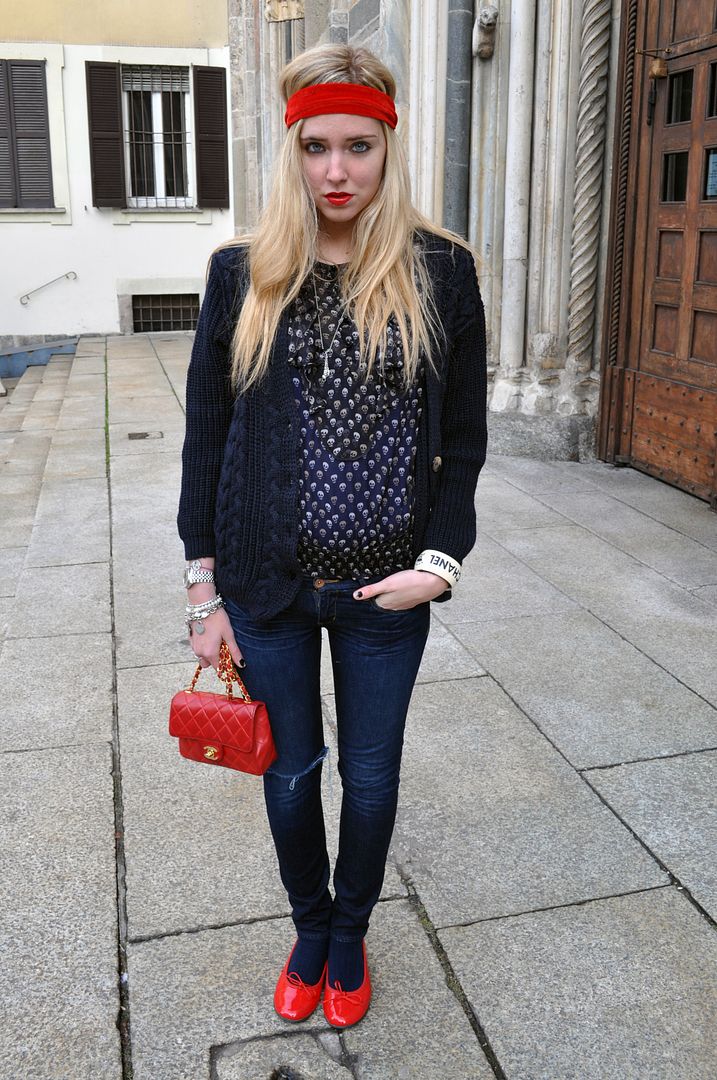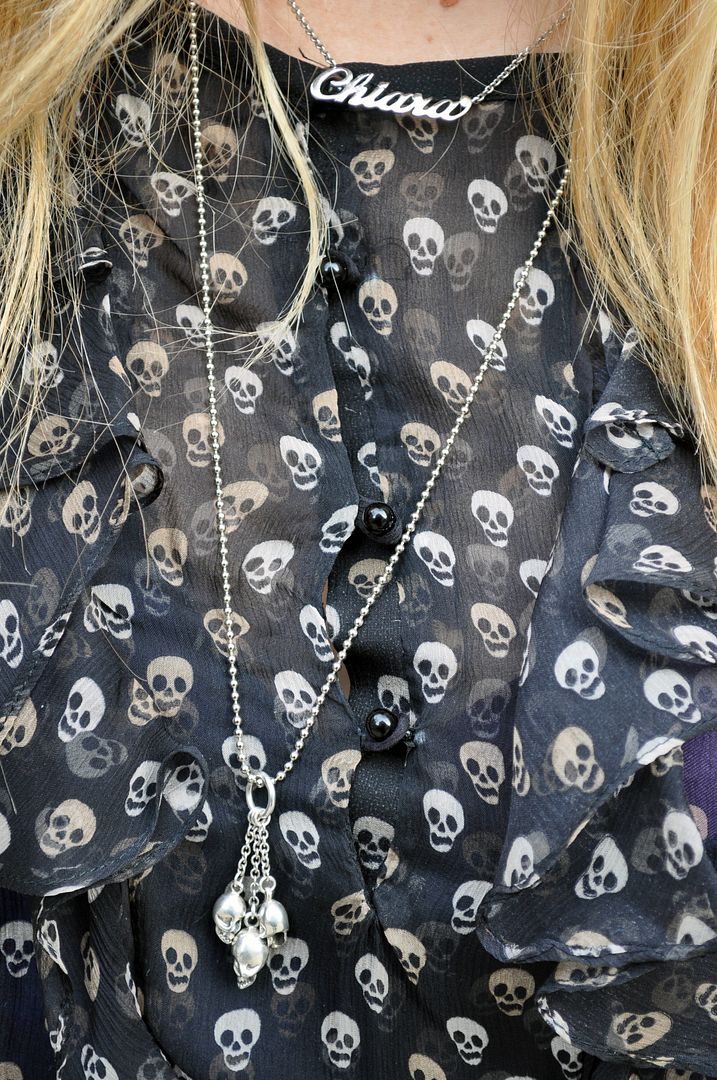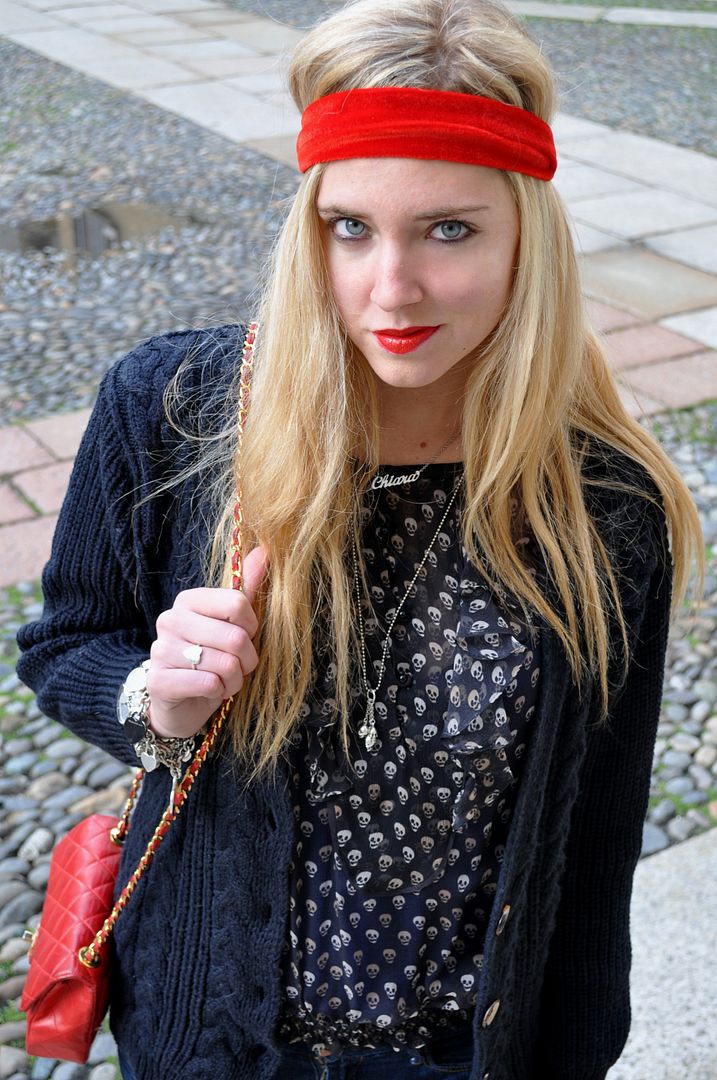 LOLITA VERNIS FLATS
ABERCROMBIE SKINNY JEANS
ZARA SKULL SHIRT
ZARA BLUE SWEATER
FOREVER21 BLUE COAT
JESSICA KAGAN CUSHMAN BANGLE "RIPPED OFF BY CHANEL"
VELVET HAIR BAND
CHANEL SMALL 2.55 RED
CHIARA NECKLACE AND SKULLS NECKLACE