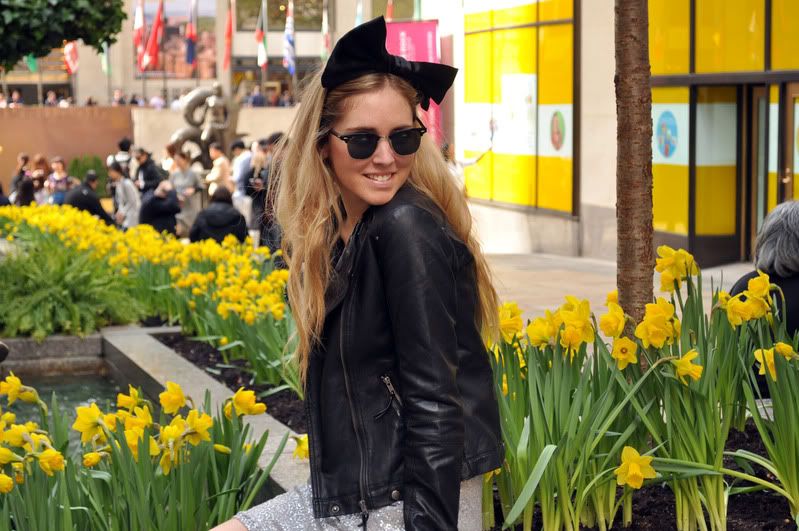 Back in my hotel room, but not at the Standard hotel anymore but at the Sheraton New York Hotel and Towers, where they moved us this morning for the last days before leaving. I alrady miss my amazing room I had in the other hotel for me, with so much light and that I already felt like mine. Yesterday Mau and I tried to visit the Moma without being too succesfull: when we got there we were kindly asked to go away because Tuesday it's closed, damnit. I showed the Rockfeller Center to Mau, where we shot some photos (in which the famous statue is cleverly hidden beside me ahahhaha). We then met with the other Benetton guys at Central Park at Strawberry Fields, where there is the mosaic dedicated to John Lennon. My outfit wasn't perfect for a day at the park but having finished my day clothes I'm trying to make the night ones work, as the one I wore yesterday. I've been looking for the headband with the xl bow for so much time and I found it the other day at Forever21, which never disappoints me

I hope you'll enjoy the new video as well, has any of you advice for the best applications for the new Ipad i bought to Richie?
Di nuovo nella mia camera d'hotel, ma non più allo Standard bensi allo Sheraton New York Hotel and Towers, dove ci hanno spostato da stamattina per gli ultimi giorni prima della partenza
Già mi manca la bellissima camera che avevo nell'altro albergo tutta per me, cosi luminosa e che sentivo in parte mia. Ieri io e Mau abbiamo cercato invano di visitare il Moma: arrivati li siamo stati gentilmente cacciati perchè il martedi è proprio il giorno di chiusura del museo, accidenti. Ho mostrato a Mau il Rockfeller Center, in cui abbiamo scattato alcune foto (in cui la famosa statua è sagacemente nascosta dietro di me ahahha). Ci siamo poi trovati con gli altri ragazzi di Benetton a Central Park e precisamente a Strawberry Fields, in cui c'e' il mosaico dedicato a John Lennon. Il mio outfit non era decisamente un look da giornata nel parco ma avendo praticamente esaurito i miei vestiti sfruttabili di giorno sto provando a sdrammatizzare anche abiti più notturni come quello indossato ieri. Cercavo da tanto tempo il cerchietto con fiocco in formato maxi e l'ho trovato l'altro giorno da Forever21, che non mi delude mai

Spero vi piaccia anche il filmato dalla nuova camera d'hotel, qualcuno ha consigli sulle applicazioni migliori e necessarie per il nuovo ipad che ho comprato per Richie?
OVER THE KNEE BLACK BOOTS
ZARA SEQUINS DRESS
FOREVER21 BOW HEADBAND
ALEXANDER WANG COCO DUFFEL BAG
RAYBAN CLUBMASTER SUNGLASSES