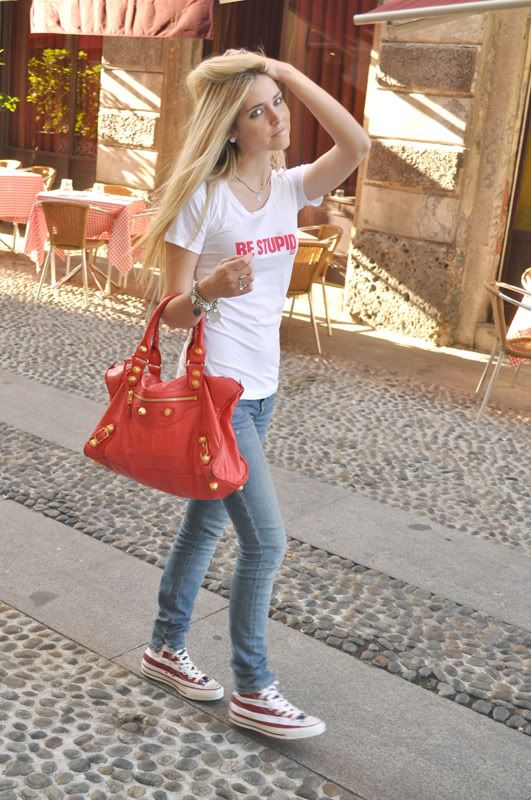 There are days in which I wake up and I only wanna wear Converse, jeans and tshirt. Thursday was one of those days
This is such a big part of my style: easy to wear and completely casual. I couldn't avoid wearing my new Converse with the American flag on them, which became one of my newest fashion obsession
I also had to take seriously the note on the tshirt, which was one of my birthday present.
I spent a beautiful saturday studying and with my family, Richi and my friends. I took some photos that I particularly like that you'll see tomorrow and I also went to the cinema for Sex and the city 2, a real joy for the eyes of a fashion lover like I am

I wanna thank so much Kenza for publishing our photo together on her blog!
Have a great Sunday everybody!
Ci sono giorni in cui mi sveglio ed ho voglia di indossare solamente converse, jeans e tshirt. Giovedi era uno di quei giorni evidentemente
Il mio stile è anche questo: estremamente casual e semplice. Non ho potuto fare a meno di indossare le nuove Converse con la bandiera americana, che è di recente diventata un'ossessione tra i miei desideri modaioli
Naturalmente ho dovuto prendere alla lettera anche il messaggio della tshirt, che è stata uno dei regali del mio compleanno.
Ho passato un bellissimo sabato tra studio, famiglia, Richi ed amici. Ho fatto un servizio di foto che mi piace particolarmente che vedrete domani e sono stata anche a vedere Sex and the city 2, una vera goduria per gli occhi di un'amante della moda quale sono

Ringrazio tantissimo Kenza per aver pubblicato sul suo blog la nostra foto insieme!
Buona domenica a tutti quanti voi!
AMERICAN FLAG CONVERSE
CYCLE JEANS
DIESEL TSHIRT
H&M RED SCARF
TIFFANY NECKLACE
FOREVER XXI CROSS RING
BALENCIAGA GIANT WORK BAG