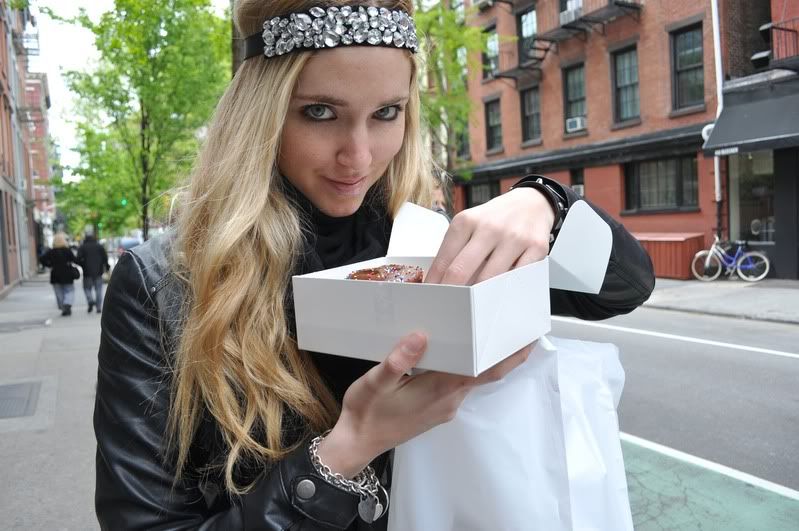 Here I am again guys, I would have loved to write the post earlier as the other times but I really couldn't, I was too sleepy. Yesterday Mau and I went for a walk in the Greenwich Village, one of the areas I love the most in New York and I enjoyed one of the cupcakes of Magnolia, a very famous place which was the location of some tv series as the beloved Sex and the city. I had the same walk last year in this month but with Richie and my best friends and finding myself here without them becomes kinda sad in some moment of the day, especially for this sensation of being stuck here without the possibility to come back home. At the moment I also am only with Mau, because Jamie was able to find a plane and she's just left. I "apologize" to you for the lack of originality of my last outfits but I'm almost done with my clothes because I thought I would have stayed here only 3 days and not 10, even If i think this isn't seen as an issue: in these trips in the city I prefer comfortable looks like this one worn yesterday. Yesterday night we went with Kai, German Glamour reporter, in a mexican restaurant that I suggest to everyone: La Esquina. The entrance is an American fast food, you then have to go down the stairs and go through the kitchen to enter the real restaurant which is totally different and really marvellous. And my grilled fillet was amazing 🙂
This morning they're moving Mau and I to another hotel, the Sheraton next to Times Square, so I'll keep you updated with some short movies 😀
And yes, Moma mia, here we go again: I really have to go there again today!
Eccomi di nuovo ragazzi, avrei voluto scrivere il post ieri sera come le altre volte ma davvero non ce l'ho fatta, sono crollata dal sonno. Ieri io e Mau siamo andati a farci un giro nel Greenwich Village, una delle zone che prediligo di New York ed io mi sono mangiata con gusto uno dei cupcakes di Magnolia, pasticceria famosissima per esser stata usata anche in telefilm come l'amato Sex and the city. Avevo fatto lo stesso identico giro l'anno scorso nello stesso periodo ma insieme a Richie ed ai miei migliori amici, e trovarmi qui senza la loro compagnia diventa disarmante in qualche momento della giornata, soprattutto per questa sensazione di essere letteralmente bloccata qui senza la possibilità di tornare.
In più ora sono sola con Mau, visto che Jamie è riuscita a trovare un volo oggi ed è appena partita. Mi "scuso" per la poca originalità nei miei ultimi outfit ma ormai ho praticamente anche finito i vestiti che mi sono portata in valigia, pensando di fermarmi qui 3 giorni e non 10, anche se non penso questo venga vista come un problema: in questi giorni di giri nella città prediligo sicuramente look comodi come questo indossato ieri. Ieri sera siamo andati insieme a Kai, giornalista per Glamour della germania, in un ristorante messicano delizioso che consiglio a tutti: La Esquina. L'ingresso è quello di un fast food americano, si deve poi scendere le scale e passare per le cucine per accedere al vero ristorante che è totalmente diverso e davvero scenografico. E il mio filetto era fantastico 🙂
Stamattina spostano me e Mau in altro hotel, lo Sheraton vicino a Times Square, vi terrò aggiornati con relativi filmati 😀
E si, Moma mia, here we go again: devo veramente tornare in quel museo oggi!
HEADBAND BOUGHT IN SOHO
MISS SIXTY JEANS
STYLEFORSTYLE TSHIRT
ALCOTT LEATHER JACKET
CROSS NECKLACE BY FOREVER21
STUDDED CONVERSE CUSTOMIZED IN MILAN
STUDDED BRACELET BOUGHT IN SOHO
ALEXANDER WANG COCO DUFFEL BAG