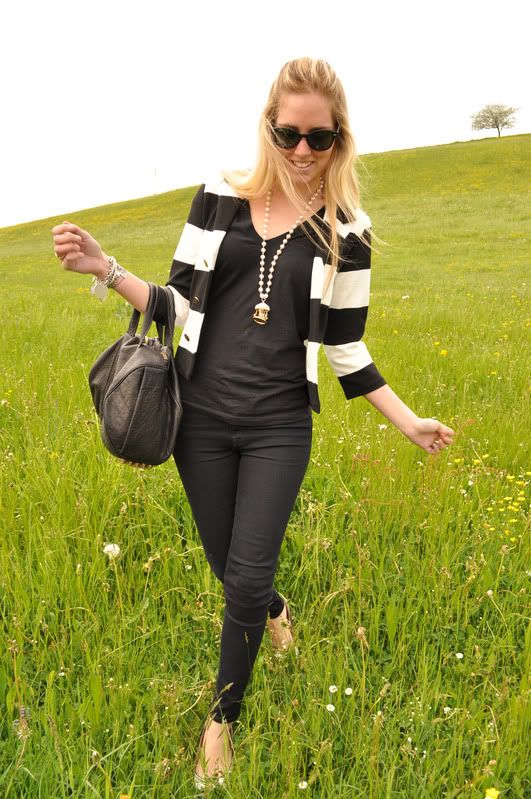 As I told you here are the last photos of my European tour on the road. We arrived in Stuttgart on Sunday night, we were so tired for driving for almost 6 hours and we immediately went sleeping. It was raining on Monday and I wasn't able to shoot nice photos in the city, but we found a better weather on the way back home. These photos were shot between Germany and Austria, in a place which looked like a fairytale. I decided to wear the striped jacket Andy and I got in Amsterdam, black skinny jeans, flats and pearl necklace that I bought in London.
For the moment, as you probably noticed, I decided to moderate the comments, I don't wanna erase all the negative comments (which anyway are only or almost only by italian people), I'll accept and publish them if they're written in a civil way to make me do better. I was really exhausted by people that every day were able to find a new reason to argue, saying bad things about each other. This is my place and I won't allow these kind of behaviours. I anyway gave the possibility to comment to people who don't have a google account, as I can see what it's gonna be published. I hope you can understand and approuve my choice. I'll try my best to publish the comments as soon as possible 🙂
And tomorrow It's my 23rd birthday!
Come promesso ecco a voi le ultime foto del mio viaggio on the road in Europa. Siamo arrivati a Stoccarda domenica sera, stremati dalle quasi 6 ore di guida siamo subito andati in hotel a farci una bella dormita. Lunedi pioveva e non sono riuscita a fare foto decenti in città, mentre abbiamo trovato tempo più mite sulla strada del ritorno. Queste foto sono state scattate al confine tra Germania ed Austria, in un paesaggio che sembrava essere uscito da una favola. Per l'occasione ho indossato la giacca che io e Andy abbiamo preso insieme ad Amsterdam, jeans neri skinny, ballerine e collana di perle trovate a Londra.
Per il momento come avrete potuto notare ho deciso di moderare i commenti, non voglio per forza censurare opinioni negative, che accetterò se fatte con il fine di un mio miglioramento e in maniera civile. Ero davvero stremata dalla gente che ogni giorno trovava un nuovo pretesto per litigare sul mio spazio attaccandosi e insultandosi l'un l'altro. Questo spazio è mio e non permetto certi comportamenti. In compenso ho dato la possibilità di commentare anche ad utenti non iscritti, visto che posso visionare ciò che viene detto. Spero voi possiate capire ed approvare la mia decisione. Farò del mio meglio per pubblicare i commenti prima possibile 🙂
E domani è il mio 23esimo compleanno!
PRIMARK QUILTED FLATS
SEVEN FOR ALL MANKIND BLACK JEANS
AMERICAN APPAREL BLACK TSHIRT
H&M STRIPED JACKET
TOPSHOP PEARL NECKLACE
RAYBAN SUNGLASSES
ALEXANDER WANG COCO DUFFLE BAG