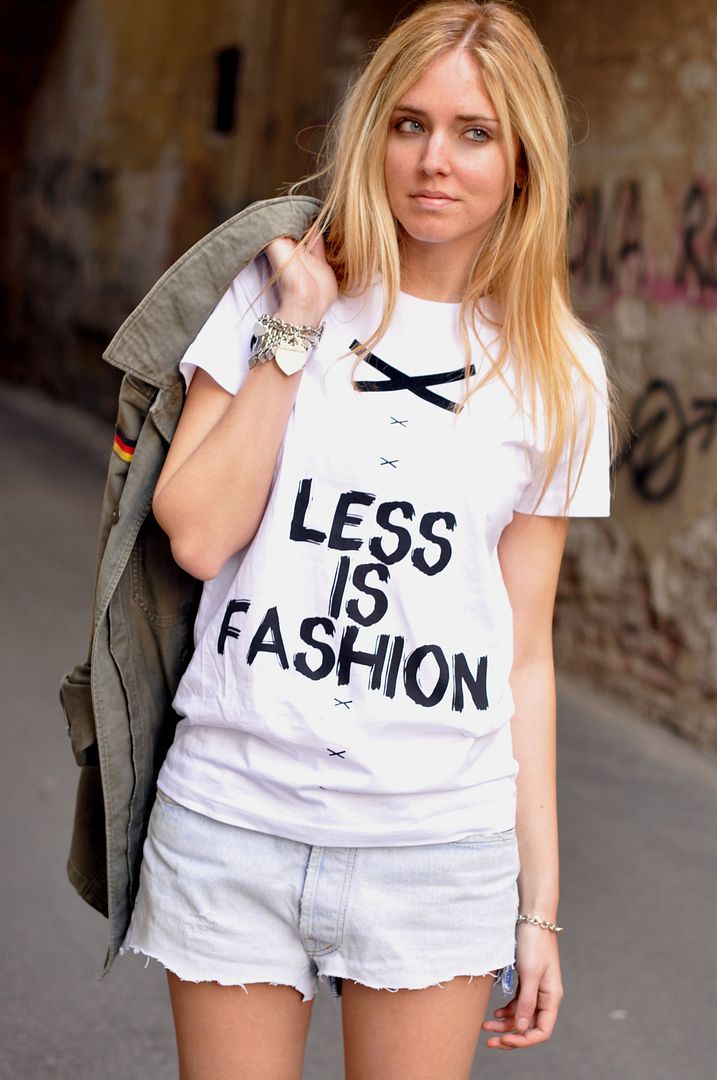 Taking advantage of the hotter weather I wanted to feel the emotion of wearing shorts again, for sure some of the most comfortable clothes. These ones are old El Charro jeans from my dad that my sister cut making them unique. I'm so in love with shorts and boots worn together, so here are my first camperos boots, bought when I was only 16 🙂 Any other fashion piece I haven't talked you about? Of course my white printed tshirt, easy to use with many different outfits. After some advice from a friend of mine I got my eyes on some models made by LuxSociety and especially on this one I bought from their online store with written "Less is fashion" on it, terribly true. Too many times infact people try to look like special and cool exaggerating, while the key of a look should be its simplicity and elegance in my opinion. That's why I matched the tshirt with easy clothes, avoiding jewels and headbands. What do you think about it?
Approfittando della temperatura un pò più calda ho voluto riprovare l'emozione di indossare gli shorts, sicuramente tra i capi più comodi ed adatti ad ogni occasione.Quelli in questione sono vecchi jeans El Charro di mio padre che mia sorella ha tagliato rendendoli unici nel loro genere. Un abbinamento semplice ma molto d'effetto per me è quello di shorts e stivali, e quindi ecco i miei primi camperos, comprati quando ero ancora una 16enne 🙂 Qualche altro capo di cui non vi ho parlato?
Sicuramente la tshirt bianca con stampa nera, easy e sfruttabile con decine di outfit diversi. Dopo un consiglio di un'amica ho puntato gli occhi su alcuni modelli di LuxSociety e soprattutto su questa che ho comprato dallo store online con la frase "Less is fashion", tremendamente vera. Sempre più spesso si cerca infatti di apparire speciali e più cool esagerando, mentre la chiave di un look deve essere secondo me la sua semplicità ed eleganza nel complesso. Proprio per questo ho abbinato alla tshirt vestiti decisamente tranquilli, evitando gioielli o headbands. Voi cosa ne pensate?
BLACK CAMPEROS BOOTS
EL CHARRO VINTAGE DENIM SHORTS
LUXSOCIETY TSHIRT
MY SISTER'S MILITARY JACKET