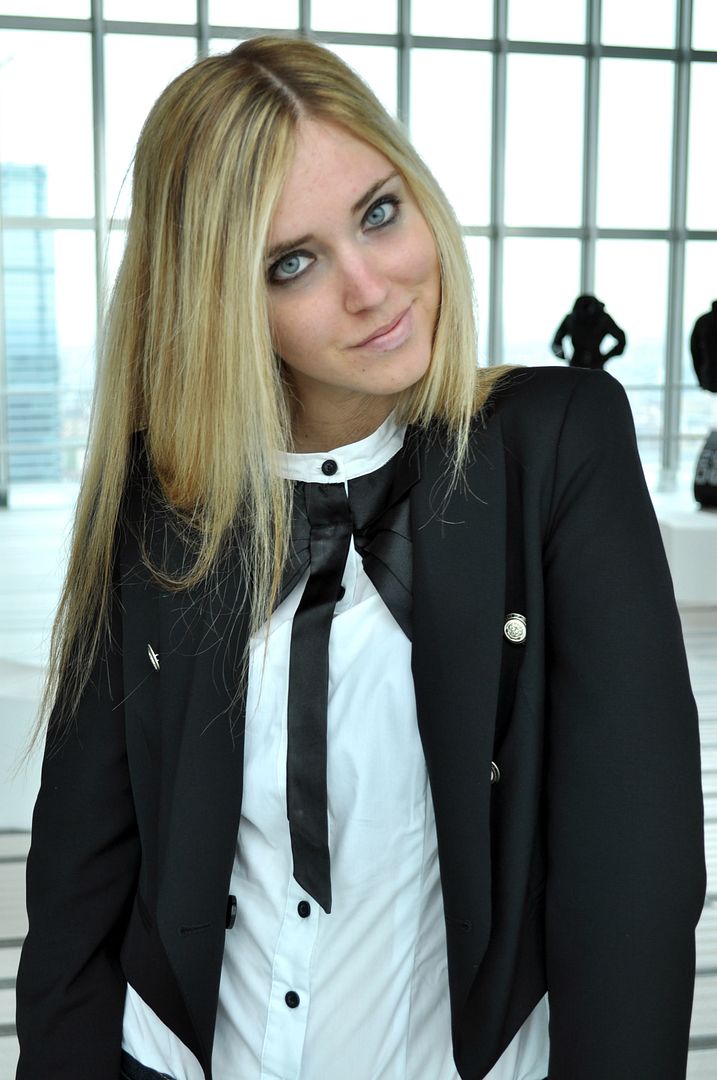 These days are dedicated to the studying for this coming exams. Yesterday we were invited to Peuterey presentation in one of the highest floors of Pirellone, one of the only skyscrapers in Milan in which I had never been before, where some pieces of the new collection and the masterpieces of the old ones were shown. We obviously took some photos, the light was delightful even If it was raining cats and dogs outside. For the occasion I decided to wear high-waisted jeans, a black bow shirt that you've already seen in other outfits and the new jacket I bought some days ago, made as a frack on the back (is it frack right?Not sure). I am in love with special jackets, and such a masculine shape couldn't not being appreciated by me. At the moment I'm looking for a black or grey one with shoulder pads, like Balmain ones (Zara made some good ones last collection but now they're sold out), something to suggest online? I'm also trying some different colours on nailpolishes: after looking for the Chanel pariculiere that I understood It's sold out everywhere (It looks like I'll have one anyway in a couple of days) I decided for this Orange Fizz which looks perfect for Summer, and I thought it matched my YSL ring perfectly. Other news? I decided to buy a new lens for my Nikon after an advice of one of my readers, Yusrina, the 50 mm f.1.8, perfect for portraits and the kind of photos I shoot. I'll soon show you the first results!
Giornate dedicate allo studio per gli esami imminenti.Ieri siamo stati invitati alla presentazione di Peuterey in uno degli ultimi piani del Pirellone, uno dei pochi grattacieli di Milano in cui non ero mai stata prima, e abbiamo deciso di farci un salto durante la pausa pranzo.
Il piano era interamente dedicato alla presentazione, con in mostra alcuni pezzi della nuova collezione più alcuni capi storici del marchio. Naturalmente ne abbiamo approfittato per scattare qualche foto, la luce era piacevole nonostante fuori piovesse a dirotto. Per l'occasione ho optato per jeans a vita alta, camicia con fiocco nero che avrete visto in numerosi altri outfit e la nuova giacca comprata pochi giorni fa, fatta a frack dietro. Ho decisamente un debole per le giacche speciali, e una forma cosi maschile non poteva non venir apprezzata da me. Ora come ora ne sto cercando anche una semplice nera o grigia ma con spalline veramente imbottite sul modello di quelle di Balmain (la scorsa collezione le aveva fatte anche Zara ma ora sono praticamente esaurite), qualcosa da consigliare online? Sto provando ad osare di più anche con gli smalti: dopo esser andata alla ricerca dello smalto Chanel particuliere che ho scoperto essere esaurito ovunque (pare comunque che riuscirò ad averlo tra qualche giorno) ho scelto questo Orange Fizz che mi sembra perfetto per l'estate, e che bene si abbinava al mio anello di Ysl alla perfezione. Altre novità? Mi sono decisa a prendere un nuovo obbiettivo per la Nikon consigliato da una delle mie lettrici, Yusrina, e precisamente il 50 mm f1.8, perfetto per i primi piani e per il genere di foto che scatto. Vi mostrerò presto i primi risultati!
ZARA HEELS
CHEAP MONDAY HIGH WAISTED JEANS
H&M BLACK BOW SHIRT
ZARA FRACK JACKET
HERMES KELLY BAG BURGUNDY
YVES SAINT LAURENT RING
HERMES BLACK BELT
CHANEL ORANGE FIZZ NAILPOLISH
CHANEL EARRINGS