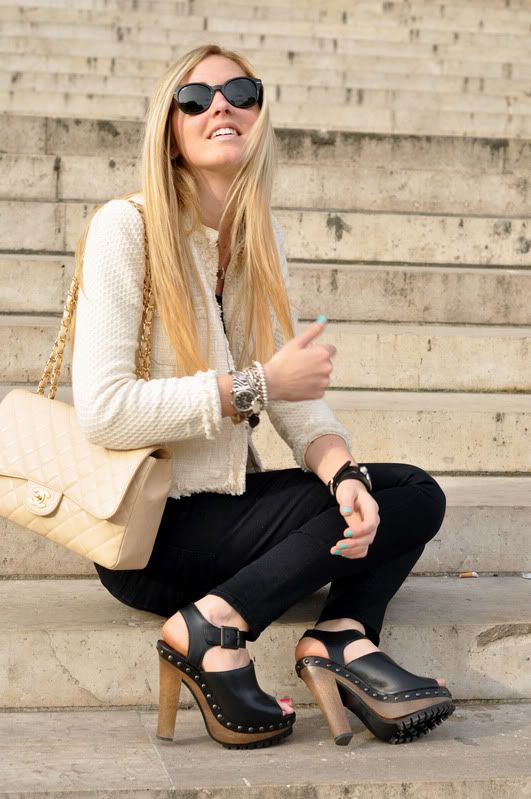 Second day spent in Paris, among the sun on the seine, a walk in the Marais area and wonderful afternoon/night spent with Denni and her boyfriend to taste Ladurèe specialities. For the first half of the day I opted for comfortable flats which are the best for walking and then I decided to wear my favourite clogs, which pair of shoe do you think was the most suitable for the outfit of the day? Getting to know Denni was such a nice surprise: I've followed her looks for a long time and meeting her in person made me understood how nice she really is. With our boyfriends we enjoyed Ladurèe macaros, had a walk on Rue Royale and had dinner at a typical Parisian bar, exchanging opinions about all the things we love and have in common.
This morning we're leaving Paris to go to London, where I hope to be able to make you a nice surprise 😀
I'm sorry if I'm not answering to emails and comments but I always am out for all the day guys, I'll make you forgive me as soon as I get home!
Secondo giorno passato a Parigi, tra sole sulla Senna, giro nel quartiere Marais e bellissimo pomeriggio/serata passata con Denni ed il suo fidanzato a gustare le prelibatezze di Ladurèe. Per la prima metà della giornata ho optato per ballerine comode adatte alle camminate, poi non ho resistito ed ho voluto indossare i miei zoccoli, secondo voi quali delle due scarpe si adattava meglio al look del giorno? Conoscere Denni è stata una sorpresa veramente gradevole: da tempo seguivo i suoi look e poterla conoscere di persona mi ha fatto capire che ragazza meravigliosa è. Insieme ai relativi fidanzati ci siamo gustati i macarons di Ladurèe, abbiamo fatto un giro su Rue Royale e abbiamo cenato in un bar tipicamente parigino, scambiandoci opinioni su tutto ciò che amiamo e che abbiamo in comune.
Stamattina ripartiamo da Parigi in direzione Londra, dove spero di riuscire a farvi una bella sorpresa 😀
Scusate se non riesco a rispondere a email e commenti ma sono tutto il giorno in giro ragazzi, recupererò appena tornata!
ZARA CLOGS (AND LOLITA FLATS IN THE FIRST 3 PHOTOS)
SEVEN FOR ALL MANKIND BLACK JEANS
H&M LACE TOP
HERMES BLACK BELT
ZARA CREAM JACKET
CHANEL 2.55 CREAM BAG
BALENCIAGA BLACK BRACELET
TIFFANY LOCK NECKLACE
RICHIES' NEW RAYBAN SUNGLASSES (I really wanna steal them from him 😀 )