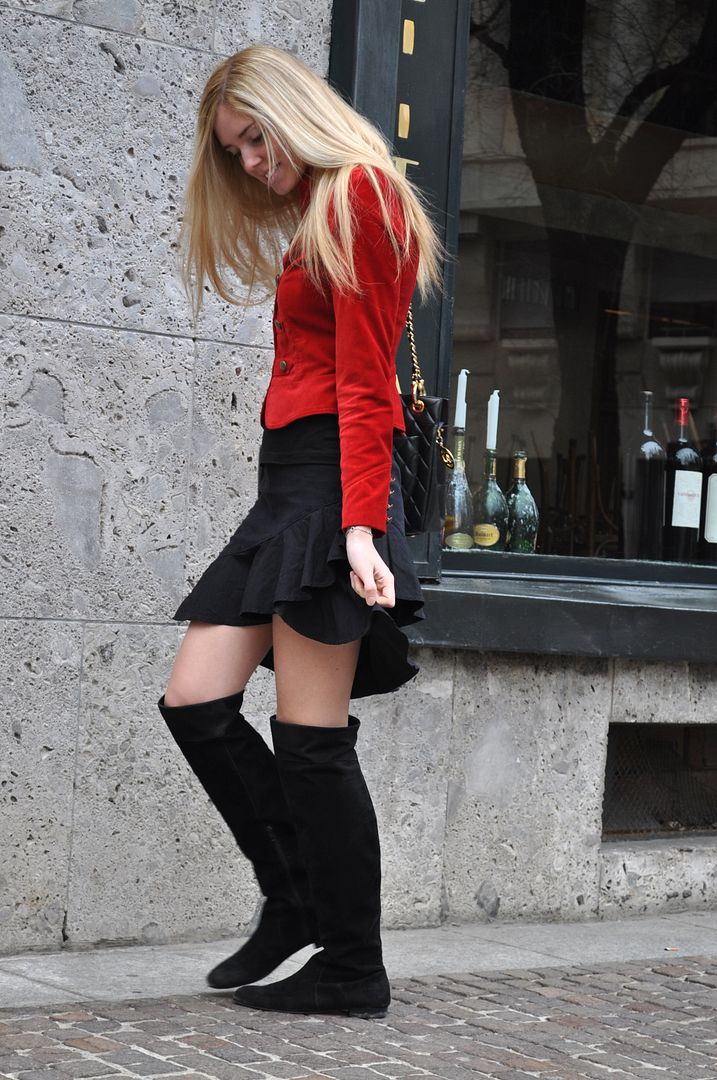 This jacket was one of the purchases I made years ago and never regret about it, it's able to make every outfit look particular and the colour is sparkling and agreeably showy. I particularly enjoyed the match with my usual over the knee boots (I used them thousands of times last winter) and the flutter skirt, and I know that not everybody's gonna love the skulls everywhere but they're my weak spot 🙂
Let's start talking about the news: I started to write some short articles for a column of the magazine A. The first short article came out on wednesday and it's about my life divided between university and my blog. There will be other ones that I'll link you soon, hoping to make you understand a little bit more my personality and my way of living life.
I decided to translate the piece for you, so that If you're interested you can read it, I didn't find an online version:
STUDENT AND FASHION BLOGGER
The bell rings, I get up, i wash myself and comb my hair quickly, not thinking about makeup which looks like a waste of time to me. Then I open my wardrobe, knowing that the choice of clothes and accessories will take more time than scheduled. Yes, because I'm a law student but also a blogger, a fashion blogger to be more accurate. I talk about fashion from my way, thanks to the different daily outfits that I decide to wear. My days are divided between serious university lessons and improbable bad impressions to try to shoot particular photos every day, in different places. One photo with my favourite bag,another one with my electric blue flats. People seem to not understand why a girl wants to be retracted in a supermarket or seated in the middle of a square: by now I learnt to smile at those who look at me with eyes wide open. The biggest joy? Feeling alive doing what I like. And then reading emails from all over the world who congratulate with me for my blog: www.theblondesalad.com.
What do you think about it?You can find photos of the article at the end of the post, I'll keep you updated for the next ones as well 😀
Questa giacca è stata uno degli acquisti fatti parecchi anni fa di cui non mi sono mai pentita, riesce a rendere particolare qualsiasi outfit ed il colore è brillante e piacevolmente vistoso.Mi è piaciuto particolarmente l'abbinamento con i miei soliti stivali alti (li ho usati miliardi di volte quest'inverno) e la gonna svolazzante, e poi i teschi dappertutto non piaceranno a tutti ma sono uno dei miei punti deboli 🙂
Iniziamo a parlare delle novità: ho cominciato a scrivere dei pezzi per una rubrica del giornale A, e più precisamente il diario dei ventenni. Il primo pezzo è uscito mercoledi in edicola e parla appunto della mia vita divisa tra l'università e il blog. Ne seguiranno altri che vi linkerò prontamente, sperando possiate capire ancora qualcosa di più del mio carattere e del mio modo di vivere la vita.
Ho deciso di scrivervi l'articolo cosi che gli interessati possano leggerlo tranquillamente, visto che non ne ho trovato una versione online:
STUDENTESSA E FASHION BLOGGER
Suona la sveglia, mi alzo, mi lavo e mi pettino velocemente, lasciando da parte il trucco che mi sembra una perdita di tempo. Poi apro l'armadio, sapendo che la scelta degli abiti ed accessori richiederà più tempo del previsto. Si, perchè sono una studentessa di giurisprudenza ma anche una blogger, e più precisamente una fashion blogger. Racconto la moda dal mio punto di vista, grazie alle varie mises giornaliere che sceglie di indossare. Le mie giornate si dividono tra serissime lezioni universitarie ed improbabili figuracce per cercare di scattare ogni giorno foto particolari, in posti degni di nota. Una foto con la mia borsa preferita, un'altra con le ballerine blu elettrico. Le persone sembrano non capire perché una ragazza voglia farsi ritrarre in un supermercato o seduta in mezzo ad una piazza: ormai ho imparato a sorridere a tutti quelli che mi guardano con gli occhi spalancati. La gioia più grande? Sentirmi viva facendo ciò che mi piace. E poi leggere le mail da tutto il mondo che inviano complimenti al mio blog: www.theblondesalad.com
Cosa ne pensate? Trovate le foto dell'articolo alla fine del post, vi terrò aggiornati anche sui prossimi 😀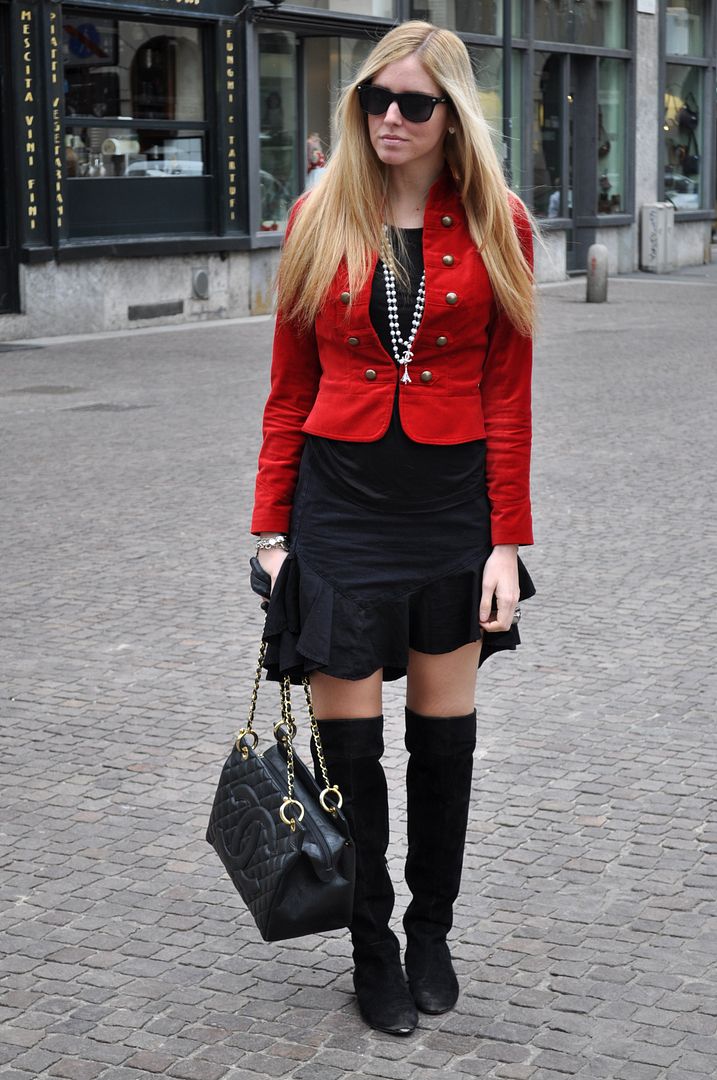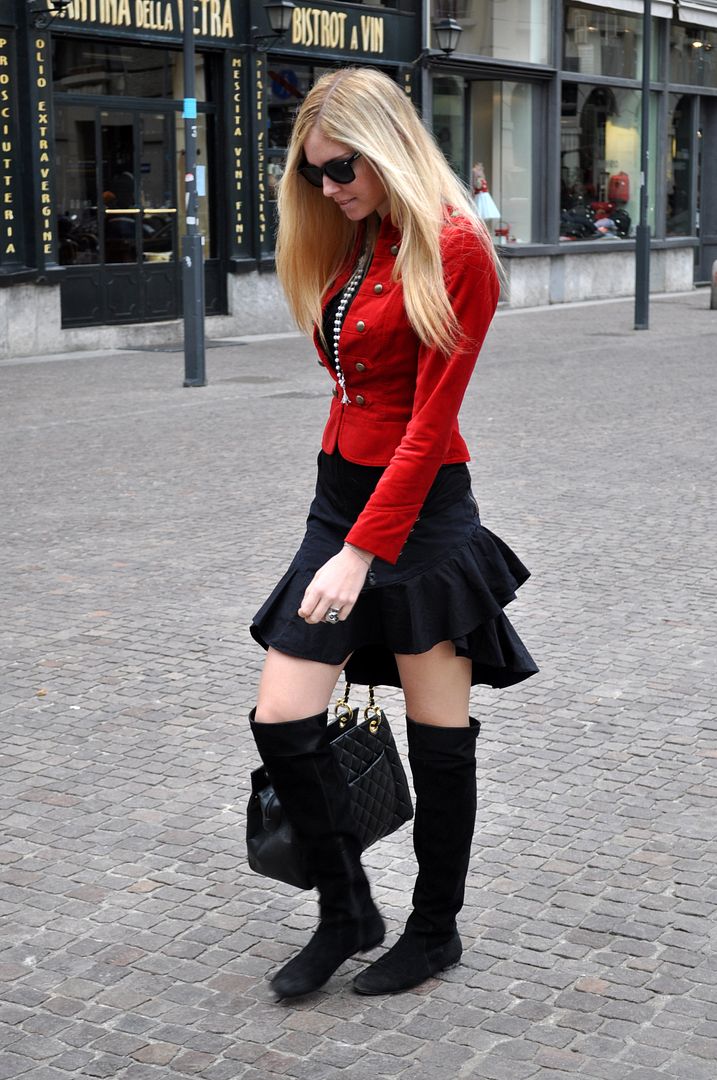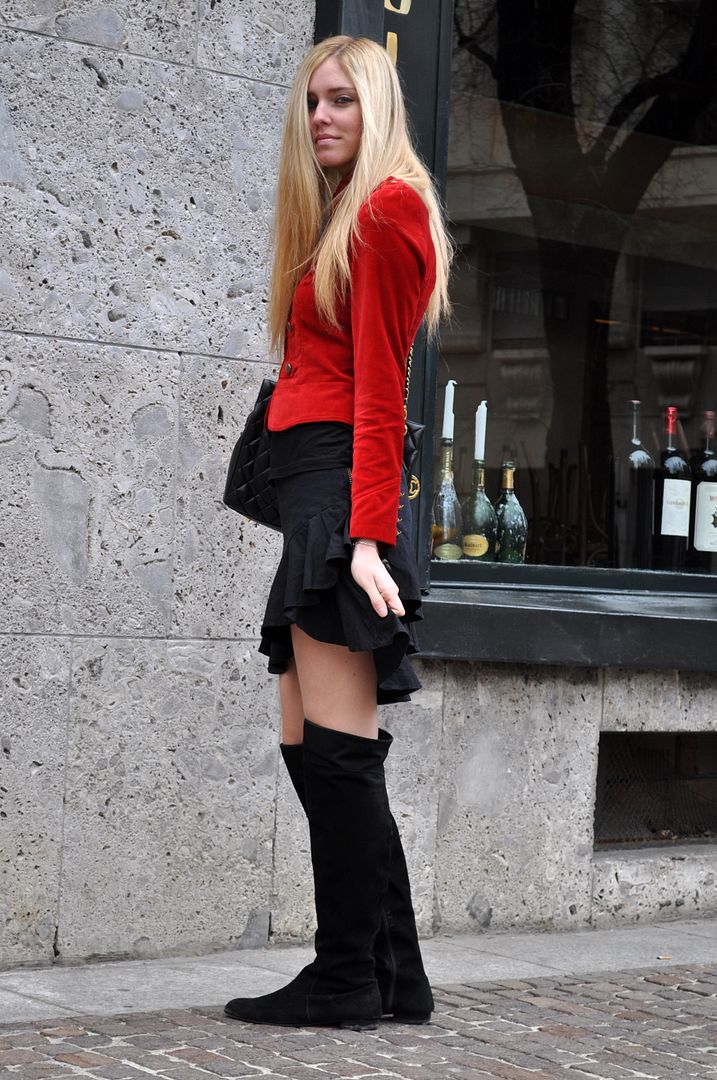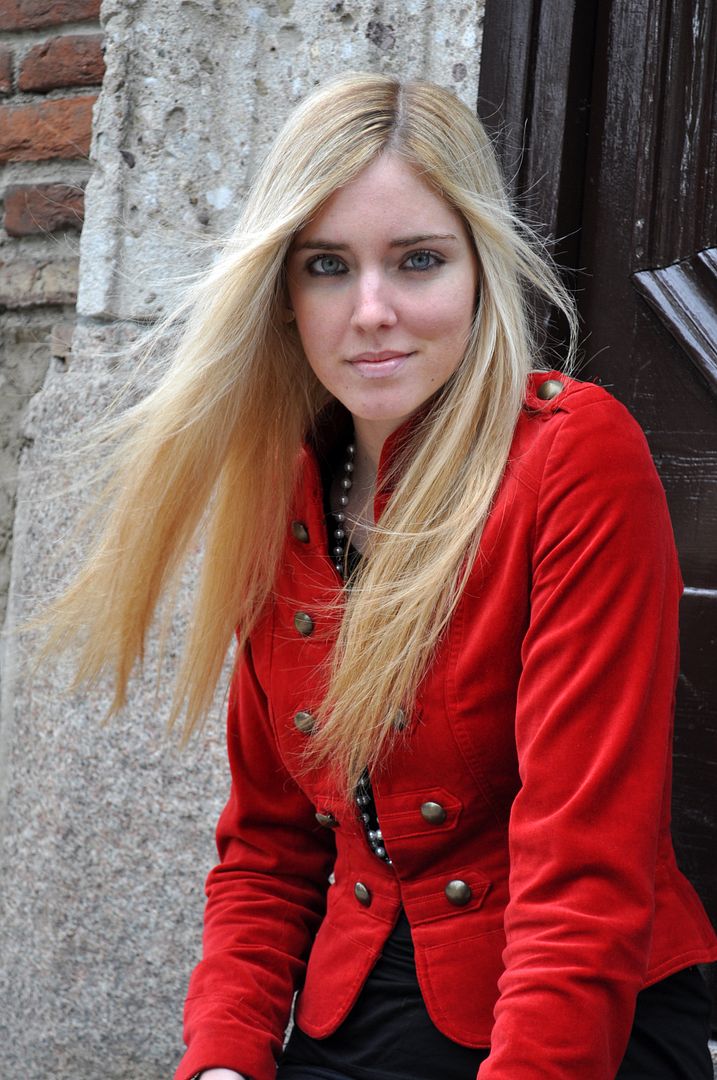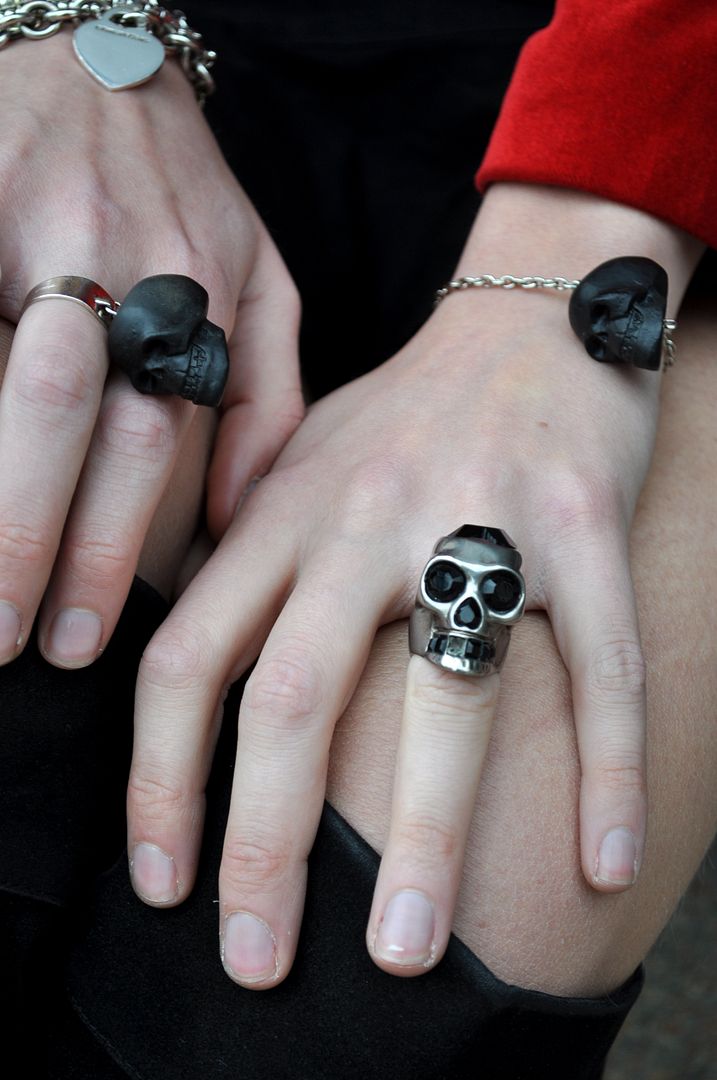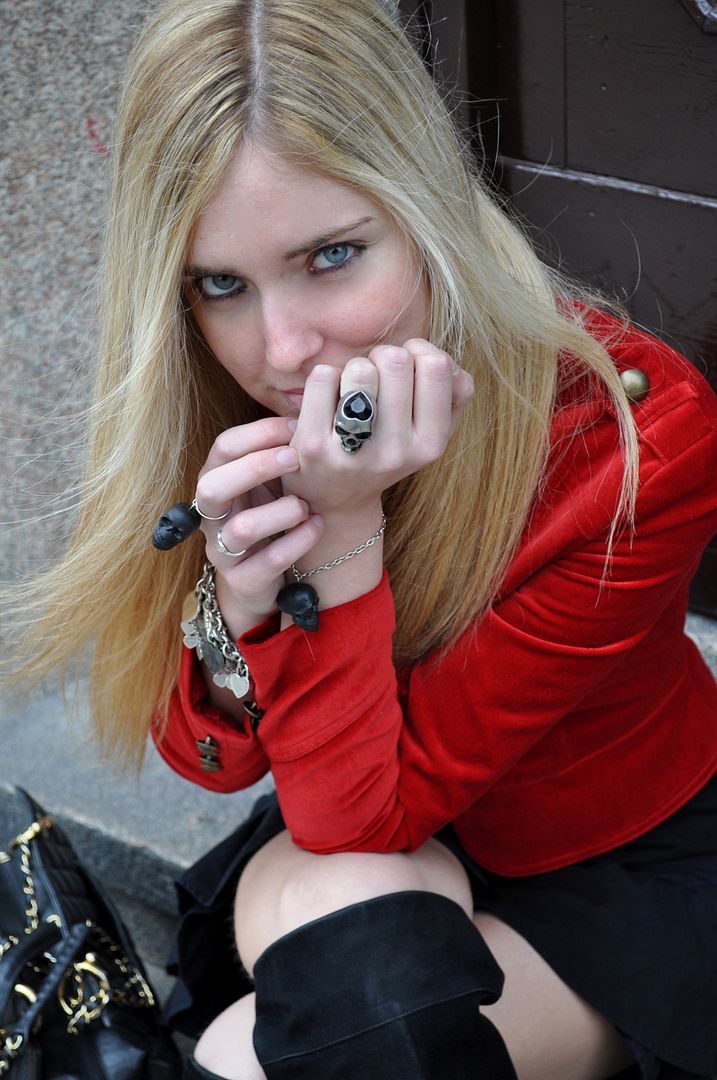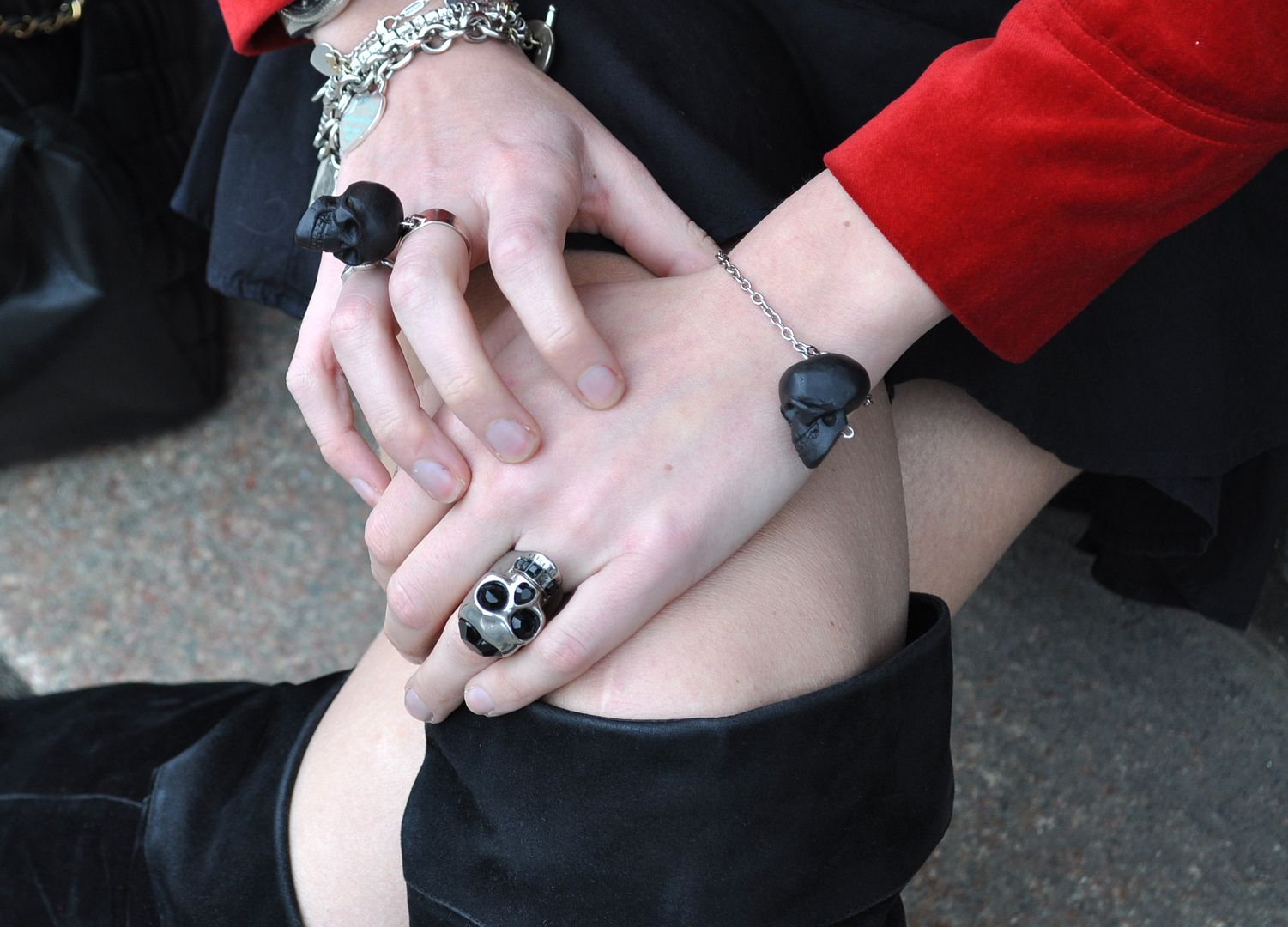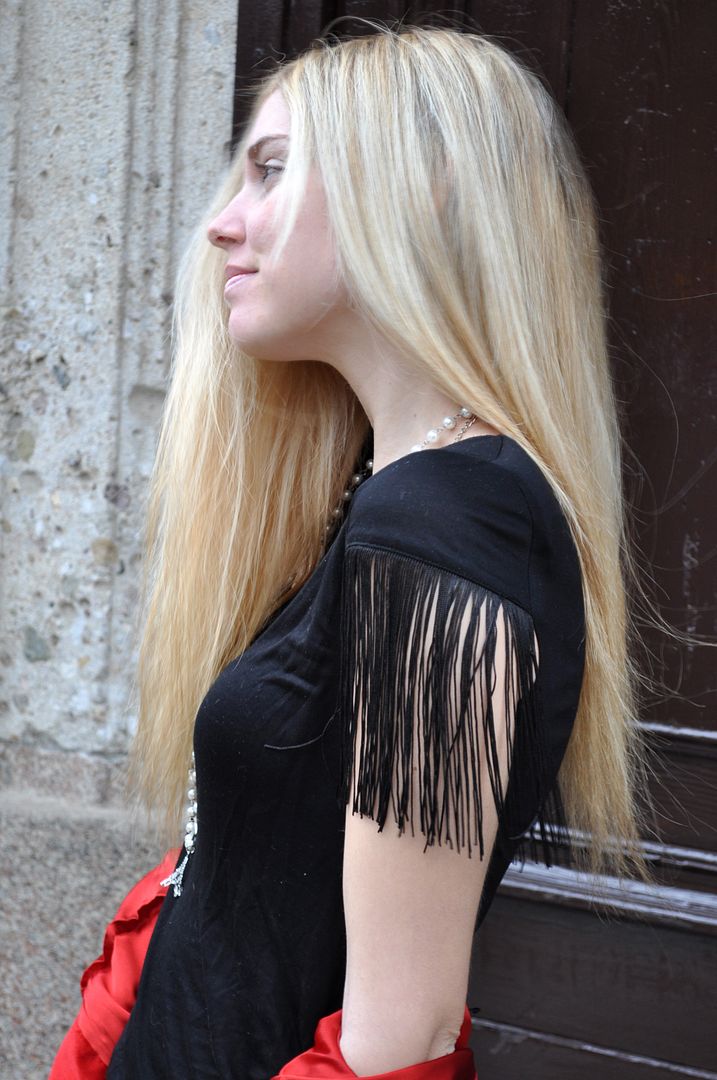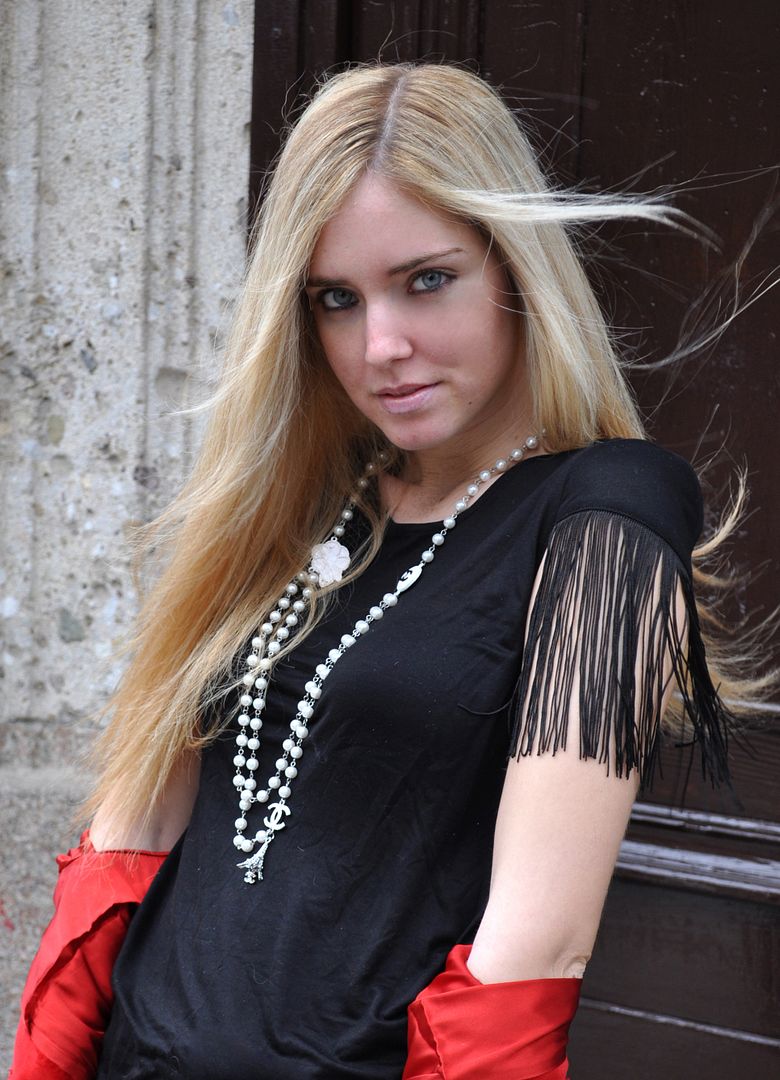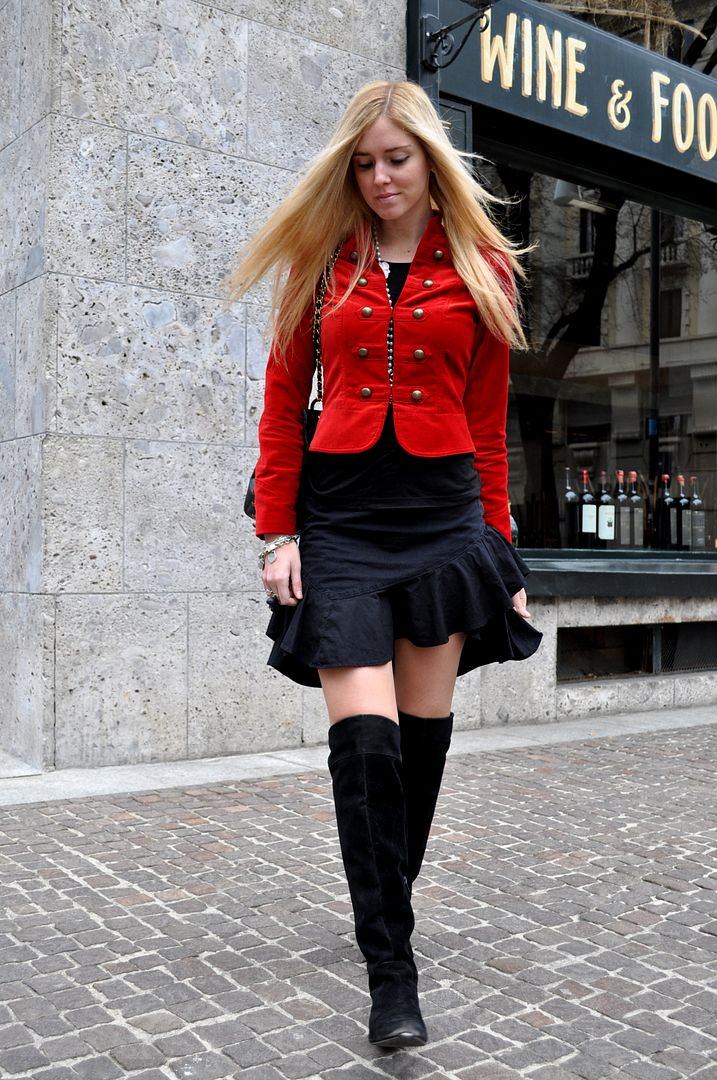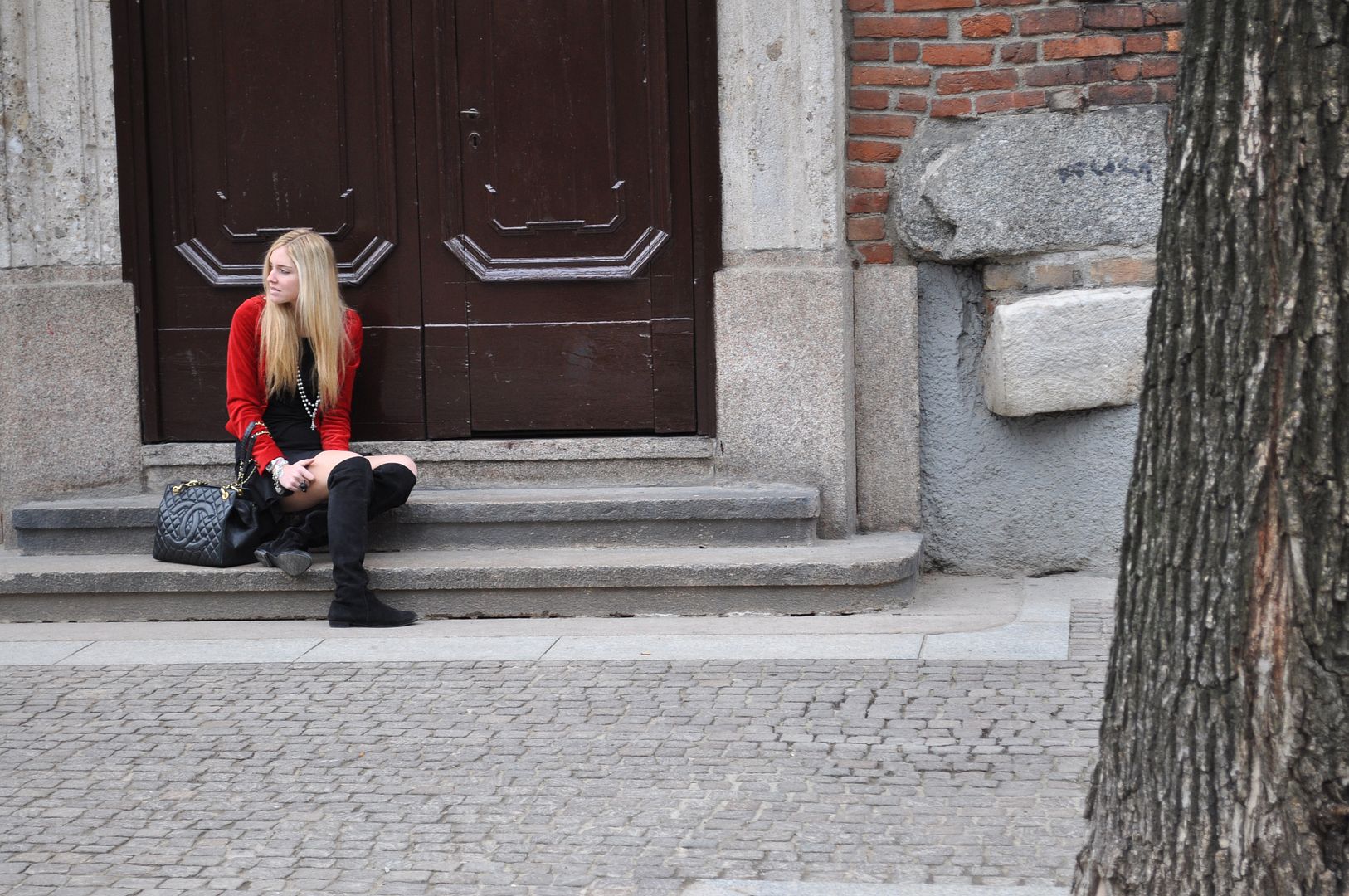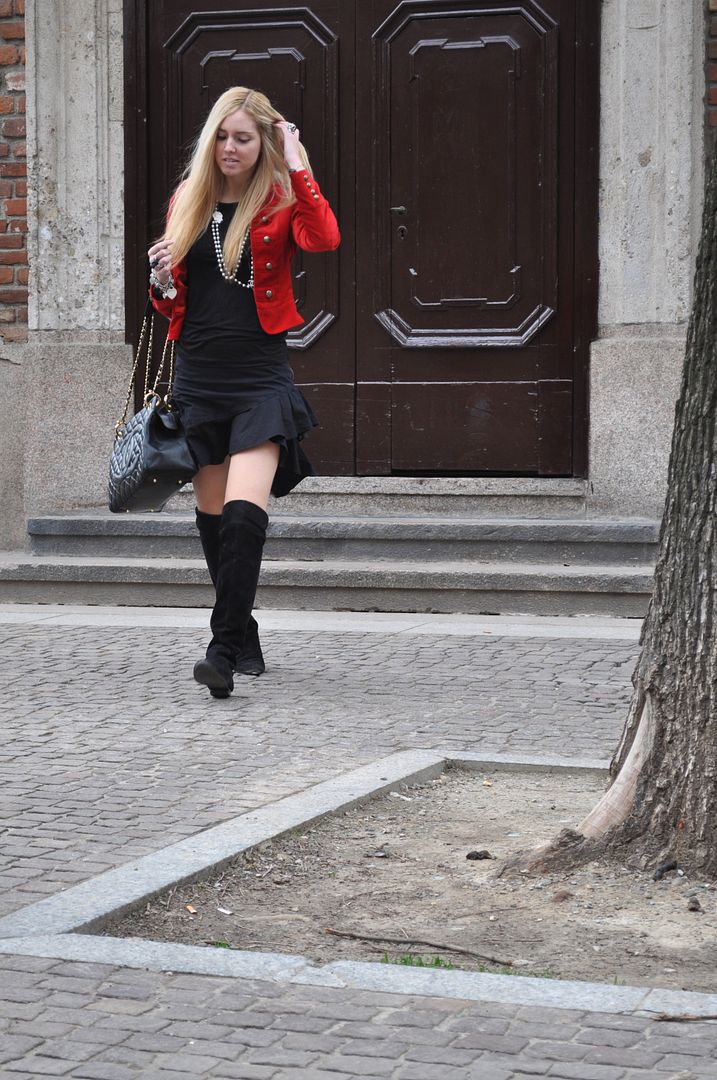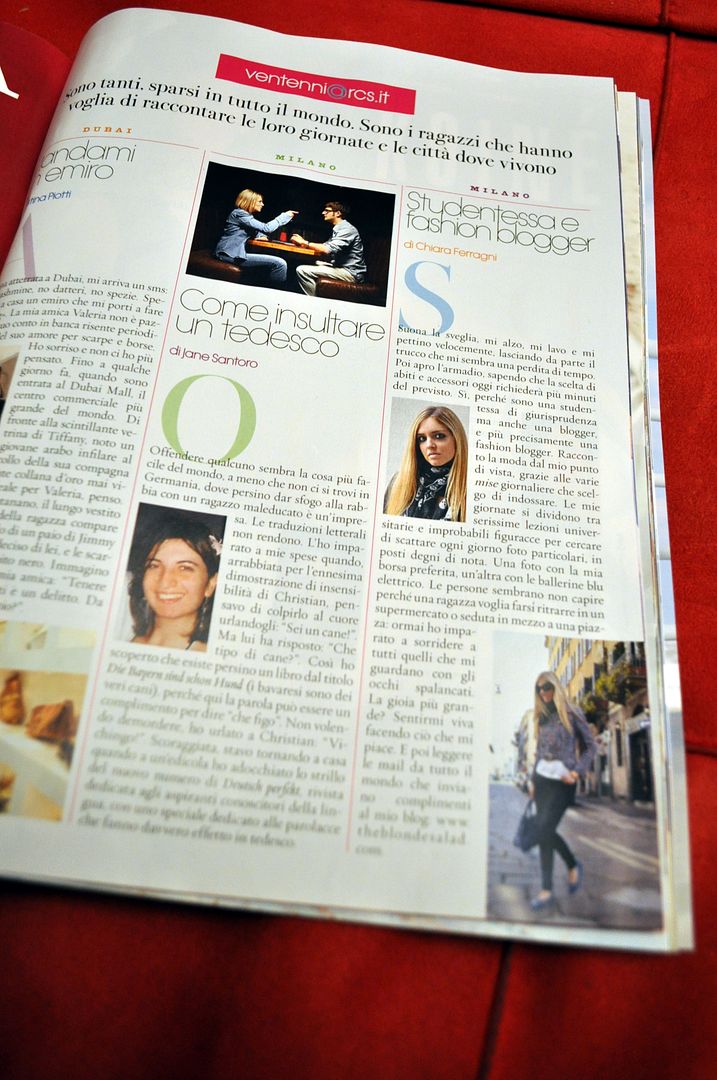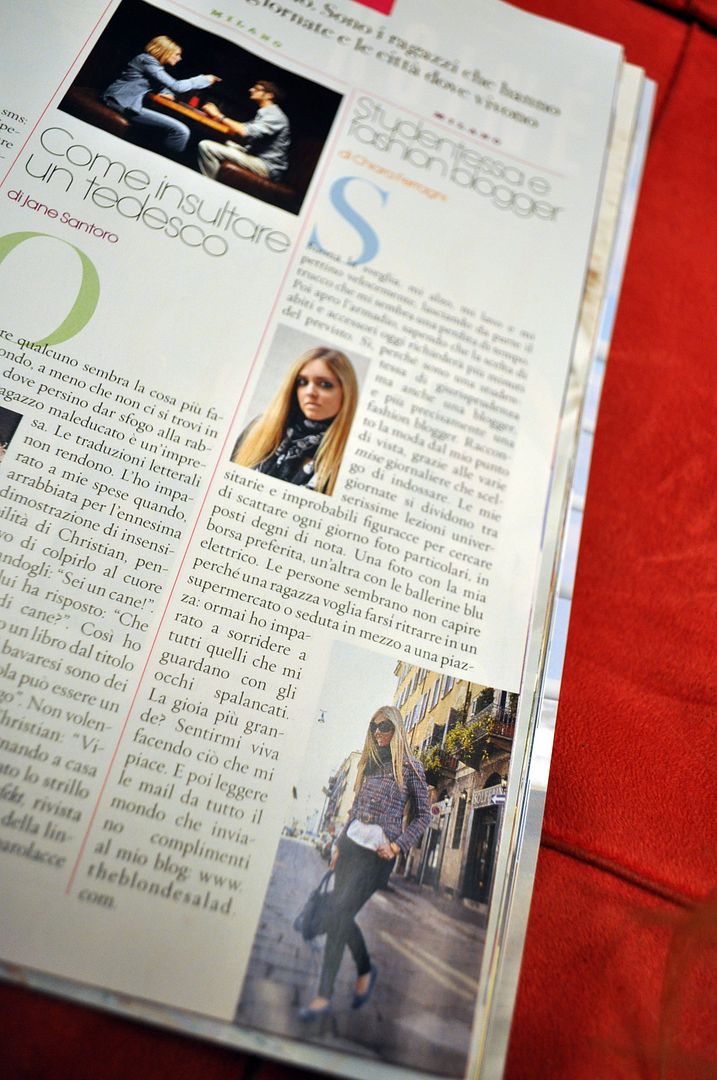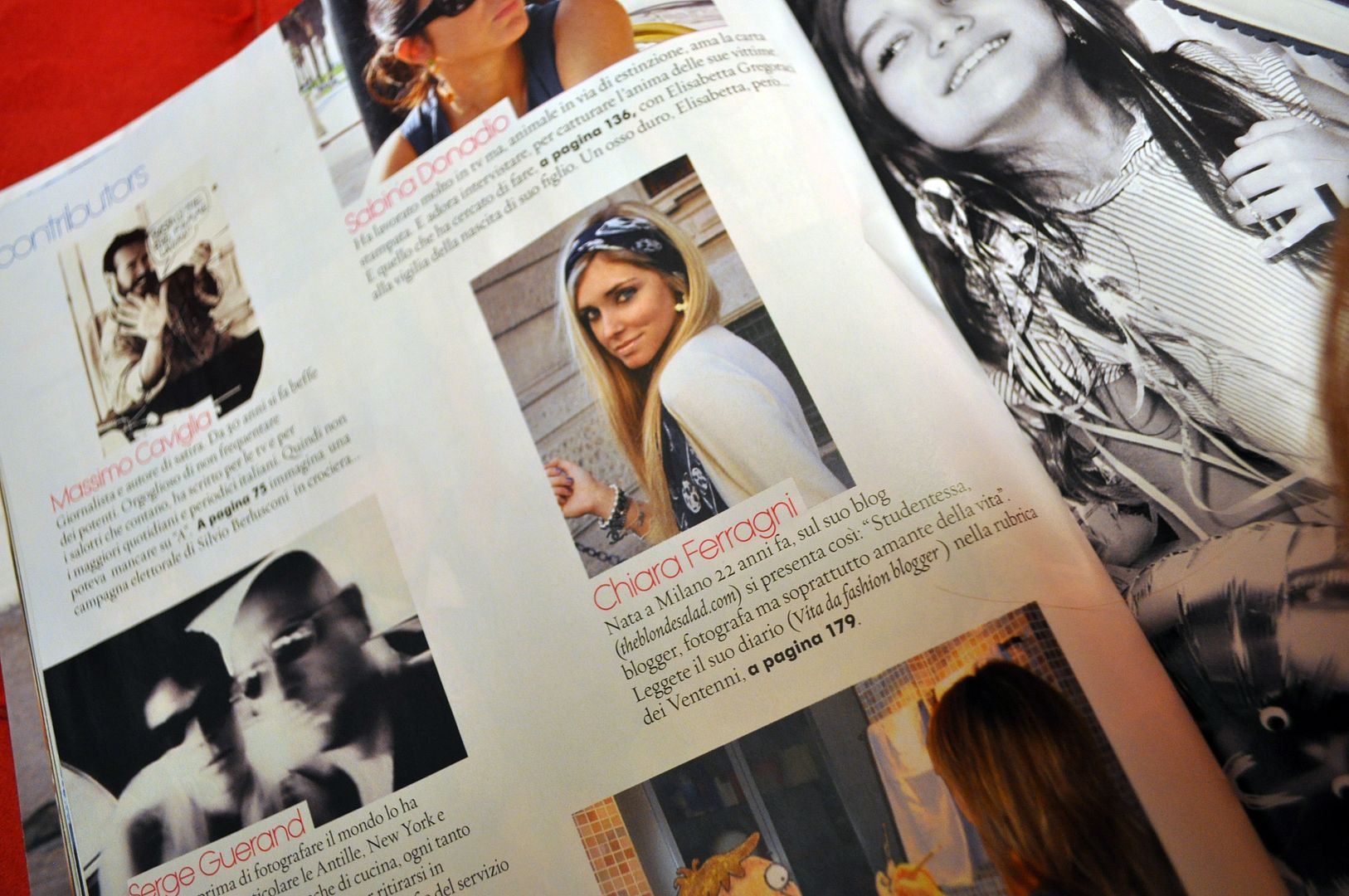 H&M RED PARADE JACKET (bought many years ago)
BEBE BLACK SKIRT
OVER THE KNEE BLACK BOOTS
H&M FRINGE BLACK TSHIRT
CHANEL LOGO BAG AND NECKLACE
ALEXANDER MCQUEEN SKULL RING
SKULL BLACK BRACELET AND RING BY ALESSANDRA AIRò