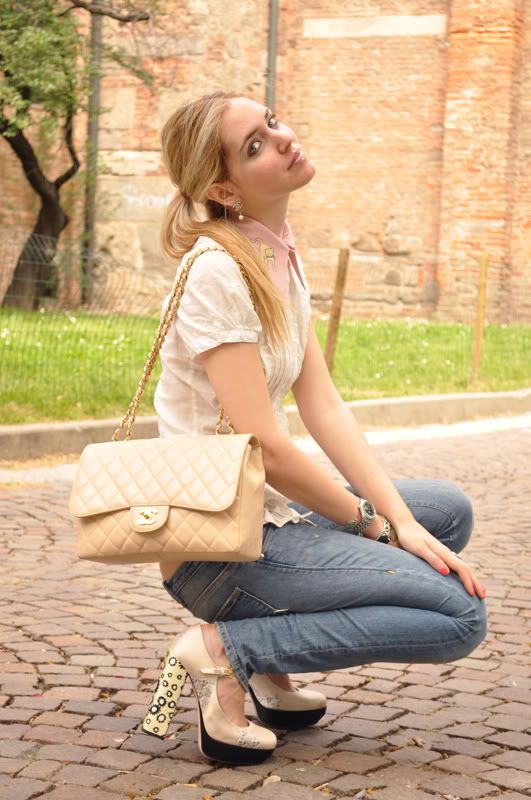 I loved every single piece of the lates Miu Miu collection, even If I could only buy the shoes and the collar. I thought that I would have had some problems matching the shoes in the different looks but the real problem was the collar: before this day I coudn't wear it in a nice combination. I looked everywhere for a linen cream shirt with long sleeves and korean neckline without good results (can anyone give me suggestions about it?) and at the end I decided this one was nice for the look as well. I played with pastel colours for the outfit which are the typical ones of the Miu Miu maison and I decided to tie up my hair in a ponytail to give the collar its value. What do you think about it?
Is there anyone coming to Florence in June for the Luisa Via Roma event or for the Pitti?
Avrei comprato qualsiasi capo dell'ultima collezione di Miu Miu, anche se ho "dovuto" limitarmi all'acquisto delle scarpe e del colletto. Pensavo sarebbero state proprio le scarpe a darmi problemi nei vari abbinamenti ed invece è stato il contrario: prima dell'altro giorno non ero riuscita ad indossare il colletto in un outfit a mio parere decente. Ho cercato dappertutto una camicia panna a maniche lunghe possibilmente di lino con scollo alla koreana senza risultati (qualcuno può darmi consigli a riguardo?) ed alla fine ho trovato adatta al look anche questa a maniche corte. Per l'outfit ho "giocato" con varie tonalità di colori pastello, tipici della maison, e ho scelto di legare i capelli per dare il giusto valore al colletto. Cosa ne pensate?
C'è qualcuno che verrà a Firenze a giugno per l'evento di Luisa Via Roma o per il Pitti?
MIU MIU PLATFORMS
CYCLE JEANS
ZARA SHIRT
MIU MIU COLLAR
CHANEL CLASSIC FLAP CAVIAR CREAM BAG
CHANEL EARRINGS
FOREVER XXI CROSS RING