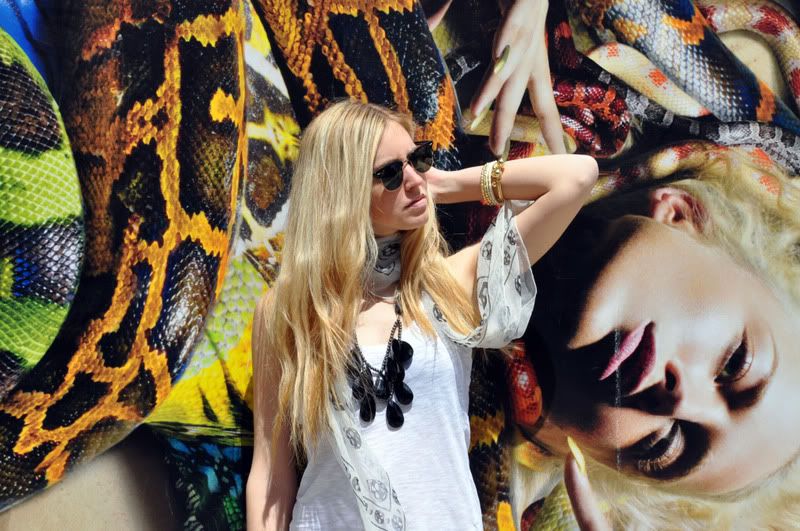 Yesterday wasn't that spectacular, probably because we spent almost all the day at the airport to figure out the best solution to go back to Italy: the result? I'll come back on the 23rd of April through Frankfurt and I'll be in Milan on saturday, the 24th April. This means I'm staying other 4 and a half days here in New York. From one side It's amazing to stay in this marvellous city but on the other side this is making such a mess on my schedule: on the 23rd I should have left for 10 days with Richie and my car around Europe that we'll have to postpone on the 25th or 26th. The cities we're gonna visit are Monte Carlo, Lyon, Paris, London, Amsterdam and Stuttgart 🙂 When I'll be back I'll move in my new apartment with Richie (yes, definitely so happy about this 😀 ) and we still have to buy half of the furniture, on the 7th may I have to celebrate my birthday and on the 8th there will be a surprise for you guys! I hope to be able to have everything done!
Today's photos were taken in the area near our hotel, in the meatpacking district which is awesome. Diane Von Furstenberg shop is pretty amazing, as McQueen one that I used as a location for my shoots. I wore my new Jeffrey Campbells shoes, my zebra ring and my crown skull one. Another nice find in the neighbourhood was the Chelsea Market, full of delicious places to eat and find the most amazing cupcakes and cookies 🙂
In the last photos there also are the purchases of the second day here,in particular the accessories and my studded gladiators!
There also is another video where I'm speaking to you guys and another funny one, taken yesterday night in my room in a crazy moment with Mau e Jamie.
La giornata di ieri non è stata particolarmente entusiasmante, probabilmente perchè passata quasi interamente all'aeroporto per cercare di trovare la soluzione più efficace per il ritorno in Italia: il risultato?Tornerò il 23 sera facendo scalo a Francoforte ed arriverò a Milano sabato 24 aprile. Questo vuol dire altri 4 giorni e mezzo qui a New York. Da una parte è bellissimo poter rimanere di più in questa meravigliosa città ma dall'altra questa partenza sta incasinando tutti i miei programmi: il 23 sarei dovuta partire per 10 giorni in giro con Richie e la mia macchinina per l'Europa che dovremo rimandare al 25 o 26 aprile. Le mete saranno Monte Carlo, Lione, Parigi, Londra, Amsterdam e Stoccarda 🙂 Appena tornata devo trasferirmi nel mio nuovo appartamento insieme a Richie (si, ne sono entusiasta 😀 ) e dobbiamo ancora prendere metà dei mobili, ed il 7 maggio devo festeggiare il mio compleanno, senza contare che l'8 ci sarà una sorpresa per voi! Spero veramente di riuscire a fare tutto!
Le foto di oggi sono state fatte nella zona del nostro hotel, nel meatpacking district che è stupendo. Il negozio di Diane Von Furstenberg è spettacolare, come quello di McQueen che ho usato come "scenario" per alcuni scatti. Ho indossato le mie nuove scarpe di Jeffrey Campbells, il mio anello a zebra e quello con il teschio incoronato. Un'altra bella scoperta di questo quartiere è stato il Chelsea Market, pieno di posticini fantastici in cui mangiare e rimpinzarci di cupcakes e biscotti 🙂
Nelle ultime foto alcuni degli acquisti del secondo giorno, in particolare gli accessori e i miei gladiators borchiati!
Per voi poi un altro video in cui vi parlo della mia giornata e un altro che merita troppo, registrato ieri sera in uno dei momenti di pazzia nella mia camera insieme a Mau e Jamie 😀
I was wearing:
JEFFREY CAMPBELLS SHOES
SEVEN FOR ALL MANKIND BLACK JEANS
H&M WHITE TOP
FOREVER21 STONE NECKLACE
RAYBAN CLUBMASTER SUNGLASSES
ALEXANDER WANG COCO DUFFEL BAG
ZEBRA RING BY FOREVER21
ALEXANDER MCQUEEN SKULL SCARF
ALCOTT LEATHER JACKET